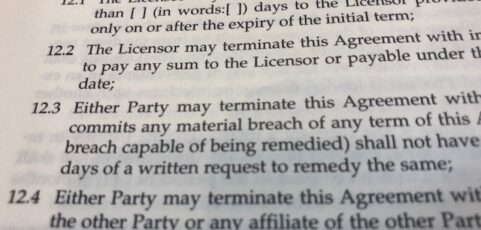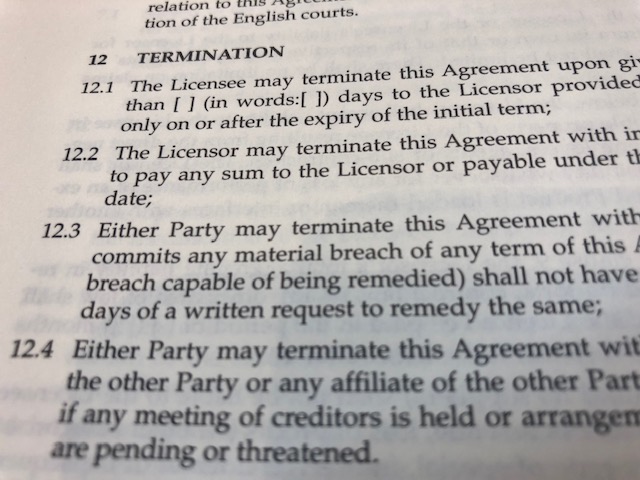 In commercial situations it can become necessary to bring a contractual relationship to a premature end. However, such a legal separation can prove difficult and should be well planned if a party wants to avoid exposing itself to legal claims and financial loss.
What is the  legal result of a "termination" in English law?
"Termination" in common law, in the strict legal sense, means that the terminating party ("innocent" party) is released ("discharged") from its respective primary contractual obligations to perform and the party in default has its primary obligations replaced by the secondary obligations to pay damages instead ("in lieu") for the damage caused by the breach.
However, in practical terms there are two main types of termination. Firstly, as described above, a party may terminate at common law for breach of a material contractual obligation (traditionally called a "condition"). This process is often referred to as termination for a "repudiatory breach". But be aware that terminating solely on the basis of a common law right carries the risk that the party terminating could itself be in so-called "repudiatory breach" if the breach relied on for the common law termination is not found to be repudiatory (i.e. constituting a refusal to perform substantially as agreed)
The second way of termination could be on the basis of a contractual right. This is very common in business situations where complex contracts are endowed with comprehensive termination provisions. Indeed, many "trigger events" in termination clauses now grant a right to terminate even if there is no breach of contract e.g. in case of insolvency, bankruptcy etc.
Be very careful of how and why you terminate. For example, if a contracting party wants to be in a position to claim expectation damages for lost business (e.g. "loss of bargain" claims), any notice of termination should make it clear that the termination is pursuant to its common law right to terminate for repudiatory breach. Depending on exactly how the contract is drafted, terminating on the basis of a contractual right alone may preclude a claim for damages if the trigger event was not a breach event.
This situation arose in the High Court case of Phones 4u Ltd v. EE Ltd [2018] EWHC 49 (Comm). The Court decided that because a termination notice was issued expressly under a contract clause allowing for termination in case of insolvency, and not as a common law claim for breach by repudiation, any right to claim damages for loss of bargain was excluded.
So, if you must have a termination clause in an agreement, draft carefully. In particular, clearly and expressly set out the possible trigger events and all the remedies available!