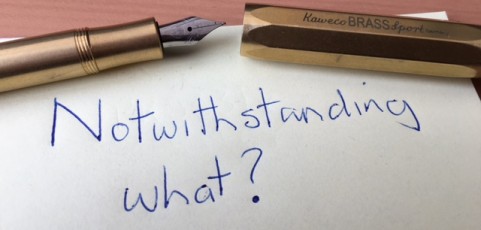 "Shall" we…or "will" we ? Perhaps, we "should"!
In response to several requests I have decided to offer a limited set of weekly discussion/learning sessions for Legal English from February next year. The idea is to meet online every Tuesday (5:30 to 7pm from 16 Feb. for 10 sessions) in a small group. It is planned to cover issues related to reading, understanding and setting up and drafting documents in Legal English.  In the course of the meeting you will have the chance to raise questions of relevance to your work. Template clauses and materials will be provided. We'll be concentrating on contracts and typical contract clauses, but there will also be time for a wide range of document forms from letters and emails to LOIs and deeds.
The sessions will be held in English with Q&A sessions and discussions. Each week there will be a case study for participants to work on.
If you're interested you can find out more information and how to join by clicking below.
Weekly Online Course with Stuart Bugg
Tuesdays, 5.30 to 7pm
16 February 2021 to 27 April 2021 (10 sessions)